Fri 12 Sep 2008
m finally back online with persistence and patience. The internet carrier they would be out on the 18th to install our services and we hounded them for a few days for cancelations and it worked out! We are such poor college students it isn't even funny. Our table for the cable modem and router is below: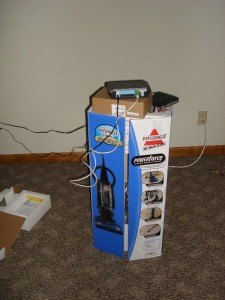 My light in my room was too dim and so I purchased new lighting to brighten up the environment. Installed in less than 10minutes=) Cheaper than those regular 60watt bulbs and a lot more efficient in energy! This thing lightens up my whole room!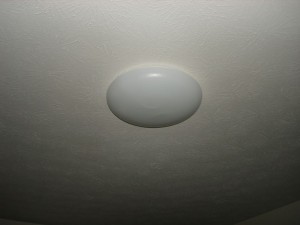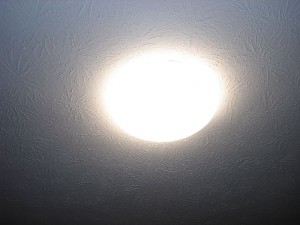 I'll be up here for a while to finish up my 'higher' education and once I get that over with, I'll be home to start inserting myself into the workforce. I've been to school for the very first week and so far I'm quite impressed. I'm not home sick b/c I have the internet and a warm bed with a good roommate to keep me company! I'm so glad I found this apartment: it's new and has central air/heating! What I find ironic is the fact that my room is larger than the one I have at home. I know what I need to do if I build my own home=) Larger rooms with their own baths!!!!
I miss Emmy. I say to myself that I don't but I miss Emmy regardless. I'm starting to adjust to a life of being on my own. No one will take care or look after me anymore thus I would have to refine my senses to look after myself. Emmy did all those chores for me but not anymore. I'm slowly reverting back to my carelessness, carefree, no mind facade to allow a transition of absolute transparency.
This is my messy computer desk. It's already bowing in the middle. Why didn't they make the darn top 3/4″ but instead used 1/2″ laminated particle board? The metal tube frame is pretty stout and sturdy but the rest is junk. I'll take this home with me once I'm finished with my stay. Then take it down to my buddy's carpentry shop and have him build a heavier top that's more suited for this style of desk.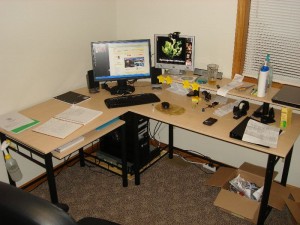 I also saw a deer running behind my house. I tried to take a quick photo of it but the screen mesh ruined the focal view and the image shows only the silhouette of the deer.